Today playing video games for a living is a real opportunity. Professional gaming, or eSports, is expected to generate $1.5 billion by 2023. This isn't a career for everyone, no matter how appealing it may seem. It takes talent, practice, determination, and dedication to succeed. There is no quick route to the top, but being part of a community and playing with players who are better than you is one of the quickest ways to learn.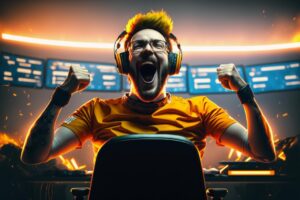 Image Source: Freepik.com
What is a professional gamer?
Professional gamers play video games full-time and take part in tournaments where they can win big prizes. This is the main way they make money, but they can also make money from sponsors or advertisers. They play some games individually, but other games require them to play in a team.
Start small to gain experience as an eSport player
Starting with small eSports competitions can help you to gain experience. For this, there is ProGameStars, which is a top eSports portal where you can find up-to-date information about games, tournaments and players. When you establish yourself at smaller events, you may find some potential teammates.
You can approach other players who are a good fit with your gameplay style, or they may reach out to you. The better you play, the more likely you are to find teammates. When your teammates are better than you, it can speed up how quickly you learn. You will need to learn to play well with others to play team-based games like Dota 2.
Choose your game 
If you want to become a pro, you must focus on one game so you can master a specific skill set. Going with a well-established game has the benefit of already having infrastructure and support in place. eSports titles like Counter-strike: Global Offensive, Dota 2, and League of Legends already have large player bases and tournaments with big prizes.
The disadvantage of choosing an established game is that it's harder for you to break in as a new player. Choosing an up-and-coming game has a lower level of competition, but there's the danger that it won't be successful.
Join a gaming community
Individual talent is important in pro gaming, but you also need to get noticed. By joining a gaming community, you can network, meet like-minded people and learn from others. You can interact with other players on message boards and forums. This is where you can keep track of a game's evolving meta and start contributing. Strategies often transcend the rules of the game, and this comes mostly from player interaction.
Find the right equipment
The ideal equipment for every gamer is different. Do your research and talk to the community to find out what eSports pros use. You will need a good gaming mouse and a technical keyboard. You will also need a headset, surround sound speakers and a high-quality webcam and microphone. Check out guides on what to look for in a processor and gaming monitor. A comfortable gaming chair is important because you will spend long hours in it.
Practice often
Concentrate on practicing game-specific skills. Pro players practice mechanics constantly. You will also need to research the game's layers of strategy and put strategies into practice. Watching top players can help you to learn from how they play in different in-play situations. When you improve, watching replays of your games is a good way to learn from your mistakes.
Compete in leagues and tournaments
Every eSport has its own system in place, so you need to familiarize yourself with the levels of competition. Your status will grow, and you will start gaining followers when you play well in online or in-person professional tournaments. When you win a tournament, it can help you to get into higher-profile competitions. As you start building relationships with better players, the environments you start playing in will help you to attract the attention of pro organizations.
Conclusion
It can take years of hard work and practice to become a professional gamer, and there are few shortcuts. It's important to take a well-rounded approach that includes not only acquiring mechanical skills but joining a community and becoming a team player. Being part of a community can speed up the process of becoming a professional and provide the motivation to continue.