Even 30 years ago, the gambling industry was different from what we have today. This once again proves the fact that this area is rapidly developing, and therefore attracts an increasing number of fans. Until the 1990s, people went to local gambling establishments and played with old machines. Of course, this is an incomparable classic that adds to the vintage atmosphere of gambling. However, with the development of information technology, gambling has reached a new level, providing more opportunities for players. Let's highlight the main features of gambling in the 21st century:
Firstly, this is the emergence of online gambling. Now players can play online casinos through their computers and not leave their homes.
Secondly, being thousands of kilometers away from a cool US casino, you can still become a client of this gambling establishment thanks to a few clicks.
Thirdly, over the past 30 years, there have been many popular companies that create software. That is why the games have become more diverse, high-quality, and colorful.
Fourthly, gambling has also become possible for players through smartphones. This allows customers to be more flexible and mobile.
Fifthly, bonuses have become a nice addition to any game. This helps build confidence, stay motivated, and make the game more exciting and profitable.
Latest Gambling Trends
Perhaps you will be surprised, but this is not the aisle of the development of online gambling. Every year there are more and more innovations that pleasantly impress players and experts. Today you can learn about the trends that are popular in 2022 and will continue to be the same trend in 2023.
Blockchain
Some players are tired of constantly bumping into scammers. There were also widespread cases of data theft or illegal activities that were carried out through gambling establishments. However, thanks to the blockchain, the security of gambling establishments have increased several times. This innovation will allow online casinos to be an even safer place, and for developers to securely store customer data.
Cross-platform games
Imagine a situation where your friend is a client of one gambling establishment, and you are another. At the same time, you would really like to participate in the tournament and compete with each other. Today it is possible! It doesn't matter what platform you play on anymore. The main thing is the game itself. Therefore, even being in different gambling establishments, you can still stay together and go through all the tests together.
Mobile gaming
According to 2022 data, about 2.7 billion of the world's population played gambling through smartphones. This encourages developers to further unlock the potential of this area. That is why companies will try to create even more realistic graphics, game quality, and data loading speed.
Casino Mate – Innovative Platform 2022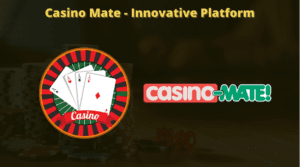 Although Mate Casino was established in 2011, this platform continues to be one of the most innovative in the Australian market. To begin with, it is worth noting that this gambling establishment provides safe conditions for playing following all standards. Thus, the activities of Casino Mate in Australia are licensed by the foreign government of Curacao. In addition, the security of clients is ensured by the use of SSL ciphers and mandatory verification of each account. The official website of this online casino is equipped with the necessary sections so that customers can find important information for them.
Casino Mate has one of the widest and most generous bonus programs. For example, new players who are not very confident in their skills can use the welcome bonus. Through this promotion, they can get up to AU$ 1,400 as well as 80 free spins. The company also offers several promotions on certain days, which will bring you an increase in the deposit. Moreover, Mate Casino gives gifts for certain types of games. This allows players to get familiar with the games and have a good time.
Around 10 software vendors are responsible for creating a fabulous atmosphere at Casino Mate in Australia. More than 1000 high-quality and vibrant games will help you plunge into the atmosphere of a real casino, and feel the excitement and enjoyment. The most popular categories here are video slots, classic slots, blackjack, roulette, table games, and live casino. In addition, on the official website, you can find sections for "popular" and "new" games.
All games at Mate Casino are for real money, so you will need to make a deposit to get started. And after a successful game, you can get a win using the "withdrawal" function. This company offers a wide range of payment methods that will ensure secure and fast transactions. Among the main options available are Visa, Mastercard, Neteller, Neosurf, and bank transfer. The minimum deposit is AU$10 and the minimum withdrawal is AU$20.
The company also cares about the comfort of each client. Therefore, if you have any questions or problems, please contact the 24/7 customer support via live chat, email, or mobile number.
Frequently Asked Questions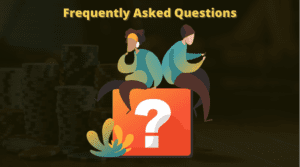 Do I need an internet connection to play through the mobile app?
If you are at home, then you need to connect to a Wi-Fi network. But if you are somewhere on the street or in another place where there is no Wi-Fi, then connect to 3G, 4G, or 5G.
Do I need to verify my account at Casino Mate?
Yes, in order to start the game and make payments, you need to go through the verification process. To do this, send a photo of any document proving your identity. In addition, attach a photo of the paid utility bill.
What currency can I use?
This gambling establishment offers several options to make it as comfortable as possible for players to make a deposit and withdraw money. You can use Australian, American, Canadian, and New Zealand dollars, as well as euros.